I'm not sure what we did differently this year, but the cucumber plants in our backyard garden have been exploding!  We currently have eight cucumbers sitting on the kitchen counter and I bet four more will be ready to pick tomorrow.  Cutting and slicing them raw is delicious, but it does get old after awhile.  So here are some ways I've utilized or plan to utilize my bumper crop of cucumbers this summer.
Refrigerator Pickles
Refrigerator pickles are the easiest thing in the world to make.  It feels like you're canning, but there's no need to process the jars as they stay great in the fridge for several weeks.  I make simple dill pickles using a recipe from The Kitchn.  You can double the recipe and easily make four jars in 30 minutes and also vary the level of zestiness.  I've made EIGHT jars so far this summer and we've already plowed through two or three.
2. Cucumbers and Onions
My in-laws always make cucumbers and onions.  Simply slice cucumbers and onions (I like red onions) and cover with a mixture of vinegar, sugar, water and salt and pepper.  Let sit for a few hours before serving.  There are tons of recipes out there but check out this recipe from Lynda's Recipe Box.
3. Creamy Cucumber Salad
We are headed to a BBQ this weekend and I plan to make this recipe from Closet Cooking. I like that the recipe uses greek yogurt and I have fresh dill ready to go on my back patio.  If you are not too hip to the vinegar-y version above, this one may be for you.
4. Cucumber Cooler Cocktails
I could probably post ten different cucumber salad recipes, but that's not fun.  What is fun is to make cocktails at home and this one from Minimalist Baker looks fancy yet simple.  Bonus points if you also have mint growing in your garden!
5.   Sparkling Cucumber-Basil Limeade
If you're not in the mood for a cocktail but still want something fancy, this sparkling cucumber-basil limeade from Fearless Homemaker may hit the spot.  I can picture myself sipping this on my patio while reading a good book.
6. Cucumber Face Mask
Cucumbers are not only refreshing to eat in the summertime, they are also refreshing for our skin.  Here are seven different recipes for cucumber face masks, depending on your skin type.  Each one contains only a few simple ingredients.  I plan to try the one with yogurt or aloe vera.
7. Cold Cucumber Soup
Super quick, no-cook, cold cucumber soup sounds like a delicious side dish to a summer dinner.  This recipe on Tablespoon uses fresh herbs and only has two steps!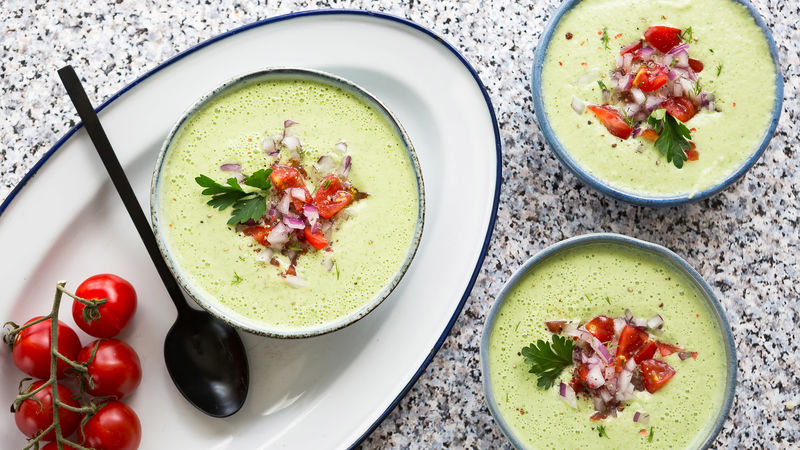 8. Homemade Tzatziki Sauce
Tzatziki sauce is a Greek cucumber yogurt dip.  Get some soft pita bread or flatbread, fill it with whatever your heart desires, and pour on the homemade tzatziki sauce.  I eat mostly vegetarian so I fill my pitas with chickpeas, sliced quinoa bites or even just spinach and veggies.  Try this recipe for homemade tzatziki sauce from Natasha's Kitchen.
9. Tuna Salad Cucumber Boats
Make your favorite tuna salad and scoop it into a hollowed-out cucumber boat.  This seems like a fun kid-friendly idea.  I have one kid who would probably love this and one who will likely screech and run away in terror.  Win some, lose some.  Try this tuna and white bean salad recipe from Cooking Matters.
10. Give your extra cucumbers to your neighbors
If you have extra cucumbers, walk next door or across the street and give some to your neighbors.  They will appreciate the fresh produce and it gives you a chance to connect with a person in your community face-to-face.  We can't underestimate the importance of community and face-to-face connections in our technology driven world.
~~~~~
I'm sure there are at least 27 more ways to use extra cucumbers from the garden.  As we have plenty of cucumbers this year, please share your favorite recipes or ideas in the comments below.  I will need lots of ideas for the rest of the growing season! And if you don't have a backyard garden full of cucumbers, head to your local farmers market or befriend that neighbor with a garden.
If you found this information helpful or valuable I would appreciate it if you would pin this post using the image above or share it using the buttons below!